We are very happy that you enjoyed our previous e-visit at our Kohgen Store in Nagoya on our blog! (If you haven`t read it yet, you can find it -> here!) This time we would like to introduce a bunch of basic and interesting information about Japanese incense ingredients in general. Let`s get started!
Do you know what are Japanese incense made of? In general, they are made of raw incense ingredients – some of them you probably know very well, as they are also used while cooking (for example cinnamon, clove or stevia).
There are also many others incense ingredients, which you probably haven`t seen or used before, so please see our infographic to learn more about them. ↓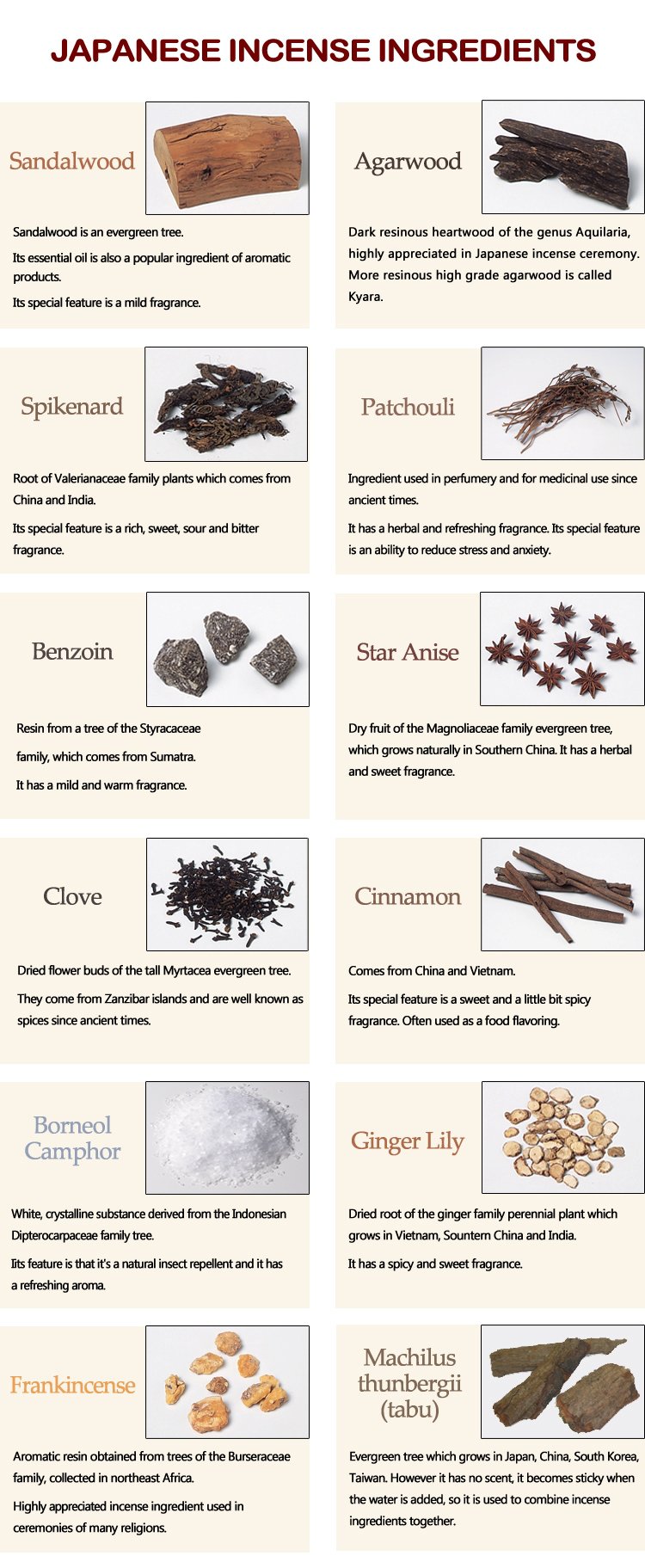 Of course, there are much more ingredients, but I believe those ones are the most basic and often included in Japanese incense.
Some time ago, I had a great opportunity to join incense making classes at our Kohgen store and make my own fragrant bag called nioi bukuro in Japanese.
While making a fragrant bag out of natural raw incense materials, you have a great chance not only to see how they look like in reality, but also enjoy all fragrances one by one.
Making fragrant bag is very simple, you just need to add the ingredients you like and mix them while trying if you like its fragrance or not. Of course, there are some secret tips thanks to which you can make the fragrance stronger or spread the fragrance better! If you are interested, please visit our stores in Nagoya or Tokyo – we can arrange some incense making class! (contact us: webmaster@kohgen.com)
The bags which we use to make a nioi bukuro are usually made from gold brocade fabric, so they are very cute. What is more there a lot of traditional Japanese patterns on them, so each of them is unique and looks very Japanese.
During this incense class I realized a very important thing – obviously the fragrance is something very personal and each of us has different impressions, but it also depends on your culture, country and experiences!
For example, cloves. I like them very much and they are bringing me an impression of warmness during the cold winters in my homeland – Poland. I was studying in a beautiful city of Cracow, which is also famous from a wonderful spiced hot wine called Grzaniec Galicyjski. It contains cloves and much more wonderful spices like cinnamon etc. Knowing that you can just imagine my great surprise, when one of my Japanese coworkers told me, that Japanese people do not really like colve`s fragrance itself as it is included in a painkiller medicine used by the dentists!
Thank you very much for reading this short article. I hope you enjoyed and broadened a bit your knowledge of Japanese incense.
If you would like to purchase our handmade original fragrant bags, feel free to contact us via e-mail webmaster@kohgen.com or facebook here.